3D Printing Partners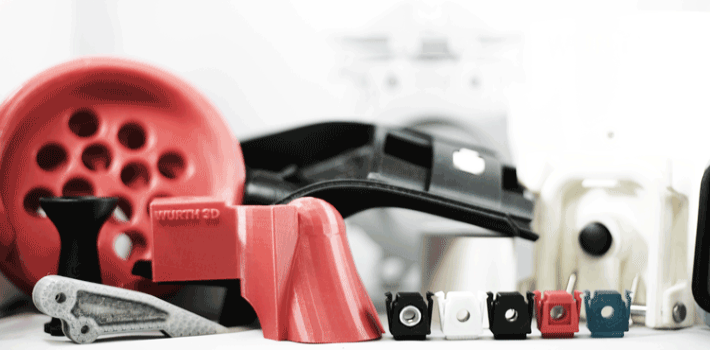 Markforged
Würth Industry now provides several additional cost-saving options to its customers, including metal printed production parts and tools, rapid prototyping, and full service digital Kanban solutions to better manage inventory. The range of 3D printed inventory solutions are limitless due to Markforged's vast array of metals — from high-conductivity copper to industrial tool steel to superalloys like Inconel — all in a safe, fast, and easy-to-use platform. In addition, its composite platform can print in continuous carbon fiber, Kevlar®, and more, creating functional parts that rival aluminum in terms of strength and stiffness, but at a fraction of the weight.
---
DSM
Würth can now distribute DSM 3D printing materials for stereolithography and fused filament fabrication complements Würth Industry's strength of providing innovative supply chain solutions for original equipment manufacturers (OEMs). After tremendous success in the market over the last year, Würth Industry is expanding their 3D printing partnerships and are focused on providing a breadth of solutions in additive manufacturing. Offering their customers state-of-the-art printing technology and hardware, customized engineering support, and Würth Industry North America www.wurthindustry.com now engineering grade printing materials to complement their digital Kanban program. Focused on being industry leading innovators, Würth will continue to push the bounds of what's possible for additive manufacturing in supply chain.
---
Baker Hughes
WINA will collaborate with Baker Hughes on advanced design and additive manufacturing opportunities across the oil and gas, renewables, power generation, maritime, automotive, and aerospace industrial sectors, bringing a new level of scale and automation to Würth customers' supply chains globally. Baker Hughes' proven additive manufacturing services help customers solve advanced design and manufacturing challenges and 3D print parts on demand. These expanded services also include access to Baker Hughes' digital inventory capabilities that transform warehouse shelves into cloud storage.
​ ​