Markforged


Markforged is changing the pace of invention with the Digital Forge, an intuitive additive manufacturing platform powering engineers, designers, and manufacturing professionals all over the world. The Digital Forge platform seamlessly combines best-in-class machines, software, and both metal and composite materials to empower engineers and designers to go from a design to a functional part more efficiently.
Founded in 2013 and based in Massachusetts, Markforged has about 250 employees globally, with $137 million in both strategic and venture capital. Markforged was recently recognized by Forbes in the Next Billion-Dollar Startups list, and listed as the #2 fastest-growing hardware company in the US in the 2019 Deloitte Fast 500.
The Digital Forge
The Digital Forge is the intuitive Additive Manufacturing platform for modern manufacturers—bringing the power and speed of agile software development to industrial manufacturing. Composed of hardware, software, and materials working seamlessly on a unified platform, it's purpose-built to integrate into your existing manufacturing ecosystem and eliminate the barriers between design and functional part.
Digital Forge adopters reap immediate benefits through massive time and money savings on parts. Through increased adoption, the platform can drive competitive advantages by making your entire operation more agile and efficient.
3D Printers
Markforged offers a complete line of 3D printers all designed around one goal—putting functional parts in your hands, now. Our machines combine high build quality, intuitive user experience, and broad platform connectivity. Featuring unibody aluminum frames and precision mechanical components, Markforged printers produce reliable, repeatable results. Better yet, the 3D printers continuously improve in performance over time, as Markforged engineers regularly update hardware through the cloud to add new features.
A simple user interface makes them easy to use and maintain. Every machine connects to the Digital Forge platform through our Eiger software. With Markforged 3D printers, fabricating a functional part—whether it's metal, continuous fiber, or composite—is easier than sending an email.
Metal Printers
Metal X System
From design to fully functional metal parts in under 72 hours. The Metal X System is the robust, agile 3D printing solution for metal parts, capable of printing a wide variety of metals using a safe, accessible, reliable process. A new kind of metal 3D printer, the Metal X System uses a process 5-10 times more affordable than conventional powder-based systems.
Markforged engineers optimized the Metal X System to produce the highest quality part and enable the best customer experience. The system combines best-in-class software, materials research, and a 5th-generation motion system to deliver industrial-grade metal parts. From stainless steel to copper, the Metal X enables you to fabricate functional metal parts for a wide variety of applications.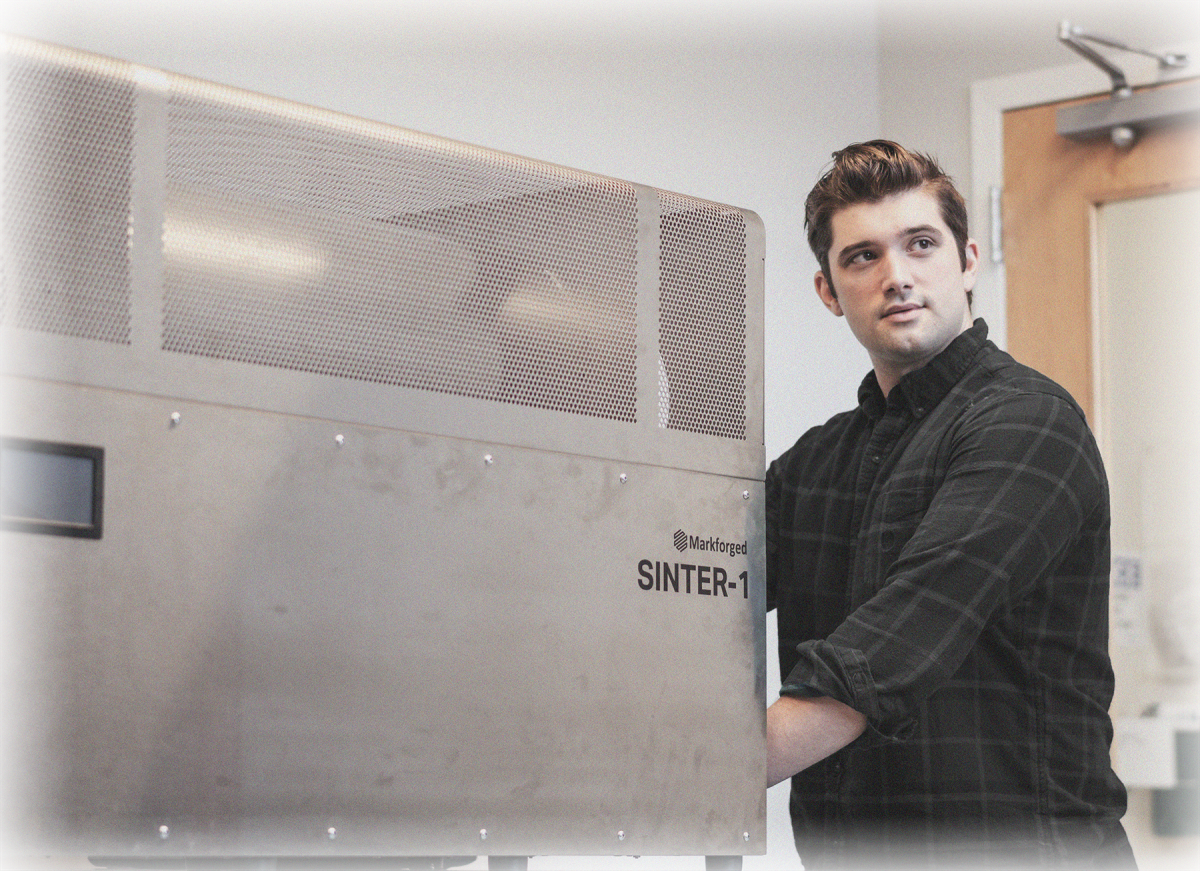 Industrial Composite Printers
Industrial: Markforged Industrial 3D Printers provide best-in-class predictability and functionality through sensors, software, materials, and print modes.
X7
The X7 is Markforged's flagship industrial 3D printer, featuring the widest variety of materials and print modes on a reliable platform enabled by advanced sensors. It is a CFR capable machine that can print continuous fiber reinforced parts as strong as machined aluminum.
The X7 combines precision-built hardware, advanced sensors, and best-in-class software to deliver accurate parts repeatably, in hours rather than days. Its third-generation CFR system enables you to print parts that are ten times as strong as standard FFF parts, and capable of replacing machined aluminum. Additionally, you can print a wide array of parts in a range of materials, meeting requirements for flame and chemical resistance, energy absorbency, and resolution. Markforged's impeccable standards mean the X7 will maintain print quality over thousands of hours.
With its range of printable materials, continuous quality improvement, and superior attention to detail, the X7 is the flagship printer for manufacturing every kind of accurate part repeatedly and reliably.
X5
The X5 is Markforged's industrial 3D printer designed to print continuous fiberglass, featuring advanced sensing, multiple materials, and a wide variety of print modes. It is CFR capable.
The Markforged X5 industrial 3D printer combines precision-built hardware, advanced sensors, and best-in-class software to deliver accurate parts repeatably. Continuous fiberglass uses Markforged's CFR printing technique to reinforce parts with fiberglass, resulting in a final output that's 10 times stronger than ABS and capable of replacing some machined aluminum parts.
The X5 gives you the tools for valuable Additive Manufacturing by printing strong, fiberglass-reinforced parts, improving over time, and maintaining print quality over thousands of hours.
X3
The X3 is Markforged's industrial FFF 3D printer designed to print with Onyx and Onyx FR. Its advanced sensing and variety of print modes make it ideal for creating functional, manufacturing-grade parts with a benchtop form factor, perfect for any manufacturing floor.
The X3 combines precision-built hardware, advanced sensors, and best-in-class software to deliver accurate parts repeatably. It features a reinforced, precision-machined gantry and precision ground print bed that can be removed and replaced with 10 μm repeatability.
The filament extrusion system is optimized to resist wear from filaments and maintain high print quality over thousands of hours. When you need strong FFF parts now, big or small, the X3 is the industrial printer of choice.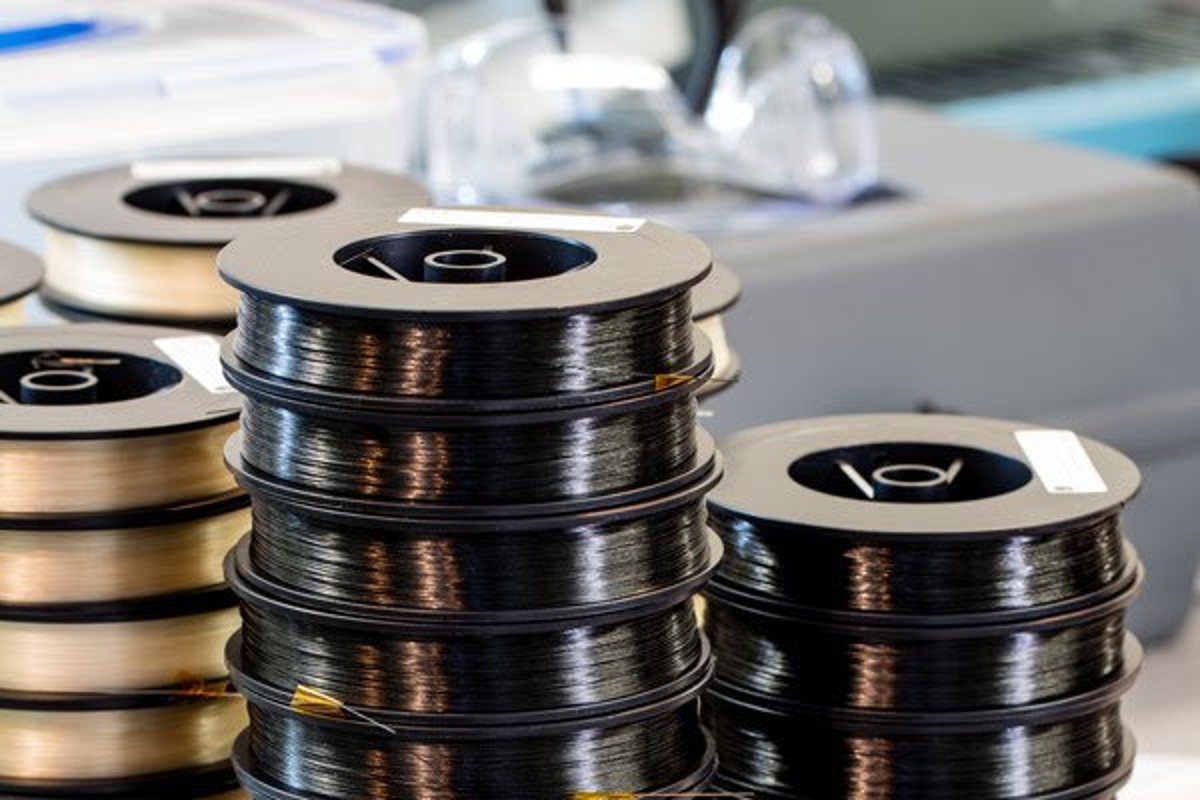 Desktop Composite Printers
Markforged Desktop 3D Printers are precision-built professional machines designed to output quality parts reliably. They deliver precise results with a smaller form factor, making them ideal when space is at a premium.
Mark Two
The Mark Two is the best-in-class professional 3D printer–built to reliably produce strong parts. Built around Markforged's one of a kind Continuous Fiber Reinforcement (CFR) technology, the Mark Two can print Continuous Carbon Fiber reinforced parts as strong as machined aluminum.
The Mark Two is built to be usable by anyone. A robust extrusion system enables the Mark Two to print Onyx, a micro carbon fiber filled nylon that yields parts that are both functional and beautiful. It's designed for easy operation and maintenance — featuring easy-to-reach wear components like nozzles and feed tubes, and usability enhancements like a print bed that magnetically locates with 10 micron repeatability.
The Mark Two is robust from the inside out. A unibody aluminum chassis and precision-machined components deliver lights out reliability over thousands of print hours. In addition to being extremely strong, parts printed on the Mark Two are predictable, accurate, and have industry leading surface finish. Full stop — The MarkTwo is the best professional 3D printer money can buy.
Onyx Pro
The Onyx Pro is an advanced professional 3D printer built to reliably produce strong parts for you. The Onyx has a 2nd generation fiber reinforcement system that enables you to lay down continuous fiberglass into parts, and can replace machined aluminum parts.
A hardened extrusion system prints Onyx, a micro carbon fiber filled nylon that yields accurate parts reliably reliably over thousands of print hours. The machine is built to be easy to operate and maintenance—from easy-to-reach wear components (like nozzles and feed tubes) to usability focused features like the print bed, which can be removed and replaced with 10 μm repeatability.
The Onyx Pro was created from the ground up to be accessible and easy to use, giving any manufacturing floor the capability to print CFR parts that can replace some machined aluminum.
Onyx One
The Onyx One is a precision-built professional FFF printer designed to seamlessly print Onyx, Markforged's flagship composite base material. It's a manufacturing-grade professional FFF 3D printer, built to reliably produce functional parts.
A hardened extrusion system enables the Onyx One to print Onyx, a nylon filament reinforced with chopped carbon fiber, reliably over thousands of print hours. The machine is built to be easy to operate and maintain. It provides a method for engineers to easily create FFF components: just hit print and get a quality part every time. Its small form factor and worry-free operation make it perfect for prototyping in nearly any situation.
Eigar Software
The Eiger software by Markforged is the simple and smart print solution and production management tool that powers The Digital Forge. Eiger is the do-it-all solution for creating and managing additive parts through the manufacturing workflow.
Eiger controls exactly how your part should be printed to meet your demands. It's a digital repository used to track and manage parts with seamless, on-demand access from anywhere, anytime. The software acts as a production management tool for monitoring and controlling your global fleet as part of your manufacturing process. With Eiger, powerful doesn't mean complicated: it's simple to use for any skill level and always reliable.
Materials
Markforged offers the only industrial 3D printing solution for fabricating Composite, Continuous Fiber, and Metal parts on the same platform. All the materials available for printing on The Digital Forge are safe and easy to handle, and offer a high degree of flexibility for part design and manufacturing. They are simple to use and do not require intensive build-outs or trained technicians.
With Markforged, you can print the right material for the right applications. If you need strength and low weight, composites can replace metal parts and speed up production times. If you need something to withstand high temperatures and provide wear resistance, metals work perfectly. Plus you can combine parts made of different materials for even higher-performing parts using the continuous fiber reinforcement process.
---
​ ​