Happy Birthday Professor Würth: How Our Employees Embody the Würth Vision, Mission and Principles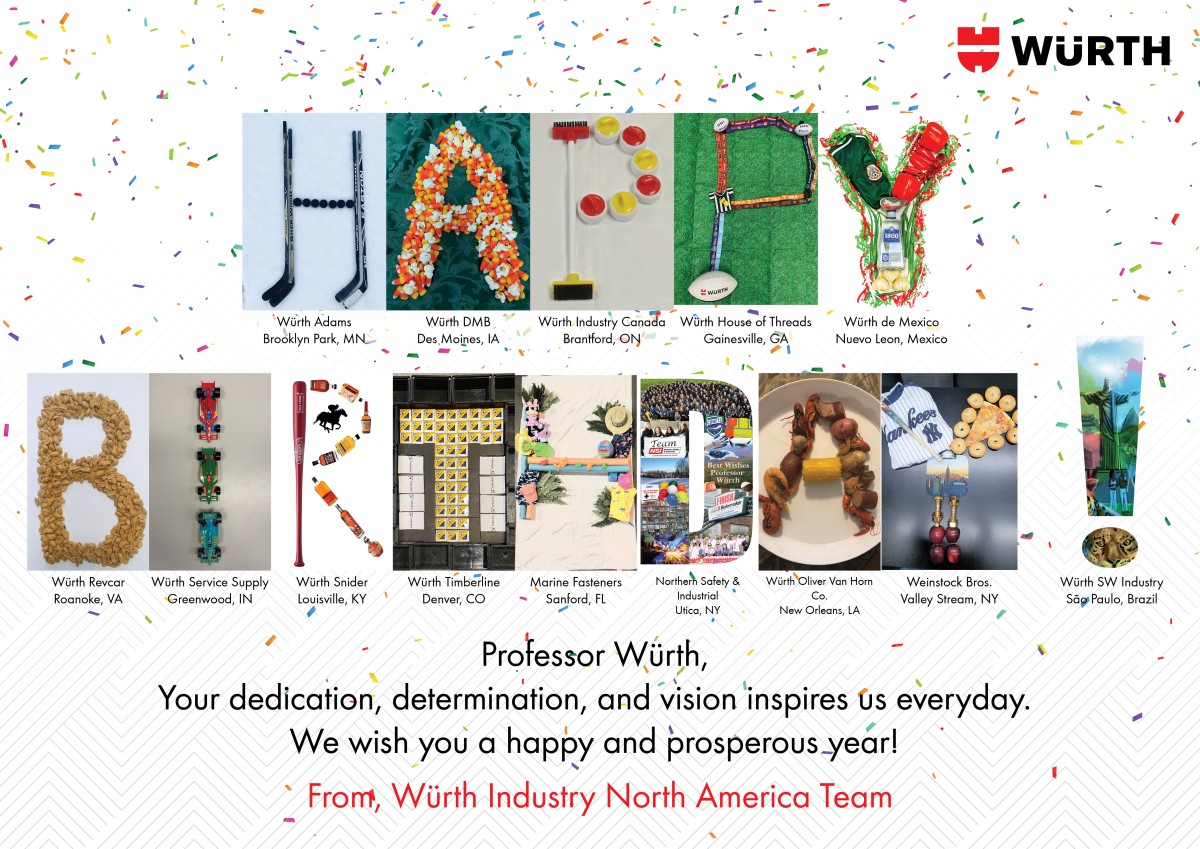 In honor of Professor Würth's 85th birthday we wanted to remind ourselves of what being a member of the Würth Group means and how we incorporate our vision, mission, and principles into our daily work, our interactions within our organization and in our partnerships with valued customers and suppliers.
From the very beginning, Reinhold Würth has formed a corporate culture that is marked by values such as optimism, vitality, high regard for the employees and their achievements and the willingness to offer the best customer service. This corporate culture is the driving force behind the success of the family-owned business. His daughter Bettina Würth, Chairwoman of the Advisory Board of the Würth Group, sees to it that these values are being put into practice and deeply embedded in the company.
Würth's visionary thinking spurs us on to go the extra mile and attain ever new milestones, guaranteeing the lasting development of the family business. All employees are asked to contribute their ideas and their creativity. Working together in the spirit of optimism, responsibility and mutual respect are not just empty words, but principles filled with life every day.
Our Vision
Becoming number one in the eyes of the customers as the best and most qualified sales team.
Our Mission
We love selling. We inspire our customers.
Our Basic Principles
We request and promote achievements. The greater the success, the more freedom and liberty.
We are optimistic, dynamic and have powers of self-assertion. We passionately fight for success.
We consistently pursue everything that has proven to be successful, and we try out new things.
We strive for perfection in every area of our activities. We assume responsibility for our actions, work in mutual respect and appreciation. We are straightforward and predictable in everything we do.
The term we consider most important in dealing with each other is "thank you".
How do we go about Honoring our Principles at Würth?
We asked Würth employees to tell us how they go about honoring the above vision, mission, and basic principles in their everyday life, as well as while they're at work. Here's what they had to say:
"I work to bring optimism and positivity to my team and customers. I live by the quote 'If you have the power to make someone happy, do it.' The world needs more of that." —Alyssa Martinez, Würth Timberline Fasteners
"Brikksen reps are courteous, knowledgeable, and will go above and beyond to serve our customers. That's the Brikksen Difference!" —Dee Ward, Division Manager, Brikksen
"Our success is dependent on each individual holding themselves accountable to perform their job to the best of their ability, not only for themselves, but in the best interest of the company and his or her coworkers. Therefore, I make sure to thank every person that is a part of our organization for what they do, no matter how big or small as they contribute to our overall success."—Jeff Schmitt, WINA Vice President – West Region, Würth Adams
"After we are awarded a project, we make sure to honor the price and delivery promises that we made during the proposal…" —Nick Junjulas, VP of Sales, Weinstock Bros.
"In Brazil, at Würth SW Industry, we have a bell that we ring to celebrate after each accomplishment." —Andreia Luna, Sales & Marketing Support, Würth SW Industry
"I never give up when it comes to our customers. My goal is to exceed any of my customer's expectations and provide the level of service they deserve." —Scott Michaud-Reilly, CFS, Inside Sales Manager, Würth Revcar Fasteners
"A quote that I use all the time when meeting with new customers is 'To each his own Würth'. I love being able to help tailor a solution that will help our customers be more efficient and see the true value of what a Würth CPS program can bring to them. We have to be flexible, listen to the customer, and develop a custom program that meets their needs." —Brian Coats, Director of Sales, Würth Revcar Fasteners
"I am committed to my job every day to meet it's goals, doing it with high responsibility and avoiding mistakes." —Martín Angeles, Material Handler, Würth Industry de Mexico
"Work done with joy and love will always be a satisfactory result for my customers. My daily phrase is, 'Can I help you with something else?' The taste for serving brings people together." —Angel Ramirez, Inventory Manager, Würth Industry de Mexico
"Leading our industry by pursuing excellence in customer service, quality, and pricing. This is accomplished by listening to our customers, learning from them, and implementing improvements in order to continually exceed their expectations." —Marine Fasteners
"I am proud to be part of the Marine Fasteners family for more than 20 years. I love my job and the positive atmosphere of the company. As our Mission Statement says, we exceed our customer's expectations by listening and learning from them. Our relationship with our customers is a top priority. In my role as Accounts Receivable, this is especially true! I have built a great rapport with our customers and I recommend all our employees to try to do the same. Persistence and friendliness go a long way. —Joan A Guadagno, Credit/Collections Administrator, Marine Fasteners/Brikksen
Don't forget to wish Professor Würth a Happy 85th Birthday on April 20th and let us know how you or your company implements the Würth principles in your day-to-day life!
Check out our birthday gift for the Professor!
​ ​