Industry Knowledge from the Experts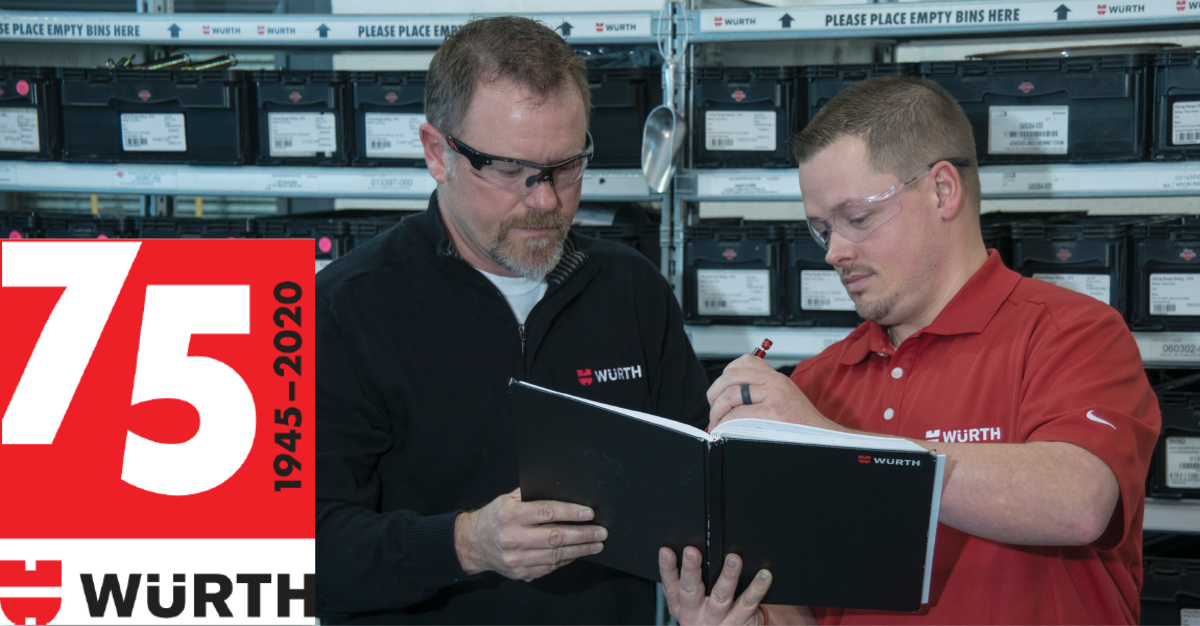 The year 2020 celebrates a huge occasion for Würth... our 75th Anniversary! In honor of this milestone, we wanted to share stories and advice from Würth employees about their time in the fastener industry. We reached out to every operating company within Würth Industry and asked our tenured employees to share their wisdom.
Beth Petersen, Sales Specialist at Marine Fasteners:
"Working for Marine Fasteners for over 28 years is a testament in itself. I've been blessed with amazing colleagues and class-act leadership. The core principles of our business start from the top down. Empowerment and loyalty to employees enables us to focus on customers at the highest level. As the saying goes, 'For Us It's Personal'.
Würth is an outstanding organization and I couldn't be more proud to be a part of it."
Angela Budde, Würth Snider:
"I have been with the company for 20 years this past January. I have worked in about 4 different positions within our company. The company is like family and makes you feel great going into work every day. Blessed to have such a great place to work."
Dawn Forcht, Sales Specialist at Marine Fasteners:
"The only thing I can say is that Marine has always been a great company to work for. When Würth bought us we never skipped a beat and have continued to grow and be successful. It has been a great fit for us!!"
Kevin Rubalcaba, Territory Manager at Würth Timberline:
"On July 23, 2020, this will be my 30th anniversary at Würth Timberline. During my time here, I have seen us start out as a small business, and to now being a part of one of the largest fastener companies in the world. What makes us different from the rest of the operating companies, is that we focus heavily on retail and industrial sales.
Over the past years, I have learned that we have to take care of the customer first, because they are here for us as well. If we don't take care of them the way that we should, another company will."
Douglas Gonçalves, Würth SW Industry:
"I have been with Würth for 15 years... since I was just 17 years old. This was my first job following school and I have been here ever since. During my time here, I have been in 6 different departments and have enjoyed them all. In 2018 I started as a Sales Manager, as I still am today.
One experience that I have to share is when I was able to attend the 2018 Commitment Conference in Germany. I was invited because I knew some English (this part is about my English were in first Commitment, in 2010. That time, I was the Logistic Manager), as well as presenting our sales to Germany. While I was there, I was able to gain an insight how Würth Industry worked since I was still fairly new to the company.
When I started my sales presentation (in 2018) I was on the first slide of my PowerPoint, and Professor Würth comes into the room and tells me to continue. After the presentation, he asked me questions about my slides... he was very kind and polite to myself and everyone else in the room. I'm very proud to work at this company and to have a chance to talk with Professor Würth. One thing that he told me that I'll never forget is, 'You have a bright in your eyes'. Happy 75th Anniversary Würth Industry!"
Collin McLaughlin, Logistics Project Manager at Würth Adams:
Then and Now Comparison of Würth Adams
Adams Nut and Bolt Co. in 1985
"When I stared at Adams Nut and Bolt Co. in 1985, orders were hand written on 7 page carbon copy forms. Each time a partial order shipped a copy would go to Customer Service to write a new order for the remaining items. Inventory was tracked on index cards, as there were no computers, and racking in the warehouse had only 44 total pallet locations."
Würth Adams in 2020
"Now at Würth Adams, all orders are scanned electronically at the customer site, and there are roughly 14,000 skid locations with over 5000 available. This just goes to show how far we've come as a company, starting out as a small facility, to one of the largest fastener companies in the world."
Butch Trudell, Product Manager Supervisor at Würth Adams:
"My friend, Win, who also worked with me at Würth Adams, had an acquaintance that made advertising giveaways for companies with their name and logo on them... they made things like pens, notepads, cosmetic mirrors, coin purses. One of the ideas were to make stress balls out of balloons fill them with fine sand.
Win thought this was a great idea so he ordered a bunch of them to give to our customers. Shortly after our sales team gave the stress balls to our customers, we started getting complaints from our customers that they were breaking.
Win, hearing this news, was wondering what they were doing to cause then to break because he used his all the time. About an hour after Win says this, you could hear him yell from his office. A few of us went to see what was going on, and Win was sitting in his chair behind his desk. His desk and lap ended up full of sand, as his stress ball broke exactly like the customers had mentioned to him. Win's wise words to us were, 'I guess it's true... the customer is always right!'."
Aaron Saylor, Director of Purchasing at Würth Snider:
"I started my career with Snider Bolt & Screw in 1994, a couple of years before they joined the Würth group. We had two branches in Kentucky at that time, and I worked in the warehouse. My first job was actually packaging bulk items into small packs using an old balance scale, and lifting up pallets with a forklift so I could sweep under them.
26 years later, I'm the Director of Purchasing for our company, and our territory covers a wide area from Kentucky to Mexico, with branches or forward stock locations in six states. When I stop to think about it, the growth of our company – and of WINA as a whole – in the time I've been here has been amazing, and it's been great to be a part of that!"
​ ​